Cheerleading...
This class stresses the importance of the fundamentals in jumps, motions, and fitness. Learn new cheers, chants, and dance routines for this activity.

Baton Twirling...
For ages five and up with opportunity for parades, performances, and competition experience. Dance Twirl Routines, basic dance, marching, and fundamentals are taught.

Pointe...
Toe dancing is introduced at the junior ballet level. Only those students who are found to be qualified by their teacher may participate in this phase.

Primary Dance I & II...
Is a combination of the three basic dance forms - ballet, tap, & jazz. For ages 5-7, this weekly 1 hour class introduces the fundamental dance techniques to develop poise, grace, and coordination.

Tap...
This class emphasizes rhythm, clarity or sounds, and training in basic combinations to prepare the students of all ages to perform.

Ballet/Jazz...
For students of elementary grades and older. Ballet is the foundation of all dance forms and emphasizes proper body posture and correct techniques. Combined with jazz, this class offers the creative, stimulating, and most contemporary of all dance styles.

Modeling...
A course for all ages, divided into groups of beginners and advanced. Grace, poise, and good posture are combined with naturalness and ease of walk in order to project an appearance of self confidence.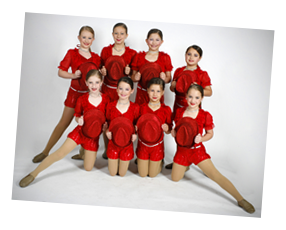 Competition Teams...
Teams are available by auditions only for the serious and aspiring student in dance or baton. Pride, dedication, and determination are required of those involved. We are very proud of our groups which each year win state, regional and national titles.
Private Lessons...
This service is available to students with one of the KOS instructors for a special routine that may be used in competitions, pageants, or talent shows.
Tumbling...
Our pre-gymnastic class for boys and girls 5 and up. To develop strong bodies, good coordination, and balance. Strengthening and limbering exercises in each class.
Pre-school Program...
Hour 1 - Preschool Dance: An introduction to dance course which is popular for students ages 3-5 years of age. Our combination class which teaches the basics of ballet, tap, and jazz, is designed to develop rhythm and coordination. Plus, this one hour class stimulates their imagination in creative dance. Hour 2 - Pre-Gym: Designed for ages 2 1/2-5. Introduces boys and girls to basic gymnastics, along with emphasis on developing the major motor skills that are needed before a child starts school.
Hip Hop...
For fun and rhythm. An electric class from today's new style of music, that combines the Blues with Funky Rock. It's electric! For boys and girls.
Gymnastics...
For intermediate and advanced students seven and up. Technical training includes floor exercise, aerial work, and balance beam. We stress the development of the students agility, coordination, and individual talent.
Country & Western Dance...
Two levels of classes offer a complete introduction to the hottest social dances today. It includes the 2-step, waltz, jitterbug, polka, and the popular line dances. A fun filled class with easy to follow instruction.
Adult Tap & Jazz...
An exciting way to exercise. This class is combined with Tap & Jazz and is done to teach skills and exercise at the same time. It is said to be very fun!